Fiber Laser Cutting Machine for Tubes and Sheet Metal
CMA1530C-G-C

The CMA1530C-G-C fiber laser cutting machine is ideal for tubes and sheet metal. It can be optionally configured according to the tube length, when used as a plane cutting machine, or used for cutting of 3M and 6M square/round tubes. It can offer the highest performance to price ratio for processing a diverse range of sheet metal.

Functional Features
1. The highly practical and multifunctional fiber laser cutting machine is fit for plane cutting as well as the processing of square tubes, round tubes and oval tubes.
2. The rack and pinion of the gantry type dual drive system is imported from Germany, resulting in outstanding cutting performance and superb stability.
3. The self-centering clamp system is designed for smooth conveying of tubes, thus ensuring high precision and quality products.
4. All dimensions are processed precisely. This sheet metal cutter can replace traditional processing equipment that fulfills your saw cutting, punching and other application requirements.
5. The saddle-shaped pipe support frame comes with precision scale that ensures no deformation of the 6 m long pipe.

Technical Parameters
| | |
| --- | --- |
| Model | CMA1530C-G-C Fiber Laser Cutting Machine for Tubes and Sheet Metal |
| Plane Cutting Range (L×W) | 3000mm×1500mm |
| Max. Tube Length (optional) | 3000mm or 6000mm |
| Tube Cutting Range (customized) | Round tube ф20mm~ф120mm, Square tube ф20mm~80mm |
| Laser Type | Fiber laser |
| Laser Power (optional) | 500W~2000W |
| Drive System | Gantry type, rack and pinion, dual drive |
| Pipe Cutting System (optional) | Available |
| Maximum Speed | 60m/min |
| Maximum Acceleration | 0.8G |
| Positioning Accuracy | ±0.15mm/1000mm |
| Repeatable Positioning Accuracy | ±0.1mm/1000mm |
| Supported Graphic Format | CAD, DXF, etc. |
| Work Environment | 0-40℃ Humidity≤ 80%, non condensing |
| Machine Power | 10KW |
| Power Supply | 3-phase 380V/50Hz |
| Total Weight | 6000Kg |
| Approx. Overall Dimension (including 3 m tube cutter) | 5480mm×2900mm×1740mm |
| Approx. Overall Dimension (including 6 m tube cutter) | 7480mm×2900mm×1740mm |
Equipment at a Glance
Suitable Materials
The tube cutting machine is mainly used for fast cutting of carbon steel, stainless steel, aluminum alloy, titanium alloy, galvanized sheet, Al-Zn coated sheet, brass, copper and other metallic materials.
Applications
This cutting system is ideal for use in diversified manufacturing industries, such as tubes, sheet metal, car parts, elevators, equipment cabinets, handcrafted gifts, metal processing, decoration, advertising, etc.
Samples at a Glance
| | | |
| --- | --- | --- |
| | | |
| Laser-cut stainless steel pipe | Laser-drilled tube | Laser-cut stainless steel plate |
| | | |
| Laser-cut tubes | Laser-cut thick steel plate | Laser-cut metal pipe |
Fiber Laser
1. Wavelength: 1070~1090nm
2. Beam quality: TEM00 (M2<1.4)
3. Lifespan of the Pump Diode: over 100,000 hours
4. Maintenance-free operation
5. Single mode fiber transmission
6. Optimal beam mode and cutting efficiency
7. Specialized in metal cutting
Auto Focus System with High Dynamic Range
1. Control the capacitive, servo-driven laser cutting head by closing the position and speed loops.
2. Fast dynamic response and high precision
3. Support leapfrog elevation and rapid follow-up.

High Efficiency and Precision Motion Module
The wear-resistant rack and pinion drive system can overcome the oscillation problem caused by high speed, long-distance operation. It can realize high speed and precision transmission.

Professional Low-Thickness Steel Plate Cutting Control Software
1.Adopt self-adaptive smoothing algorithm to optimize the cutting route automatically
2.Automated edge tracking function
3.Adopt Bezier curve algorithm to realize high-efficiency curving and also prevent damage generated from the thermal processing activity

Finite Element Analysis of the Cross Member Structure
1. Finite element analysis and optimization is done on the cross member to achieve the ultimate in dynamic properties: the lowest weight, best structural rigidity, highest running speed and greatly improved dynamic response.
2. Ideally suited for high speed and precision laser cutting
High-Performance Servo Motor
The Japanese Yaskawa high-inertia servo system can offer the best amplifier response, which results in minimal setting time, effective speed control and maximum mechanical stability.

Y-axis Synchronous
Double Drive Solution
1. Twin-motor, twin-gear synchronous drive system with a high-strength aluminum alloy cross member
2. Maximum acceleration: 1.0G
3. Provide ultra high processing efficiency and greatly reduced gas consumption
Cooling Unit
1. Intelligent water cooling system available with dual temperature range
2. Safety alarm functions include over temperature alarm, flow protection, water level protection, etc.
3. This equipment is guaranteed to work normally even in a hot and humid environment.
World-class Facilities
In order to ensure a world class level, we never rest in improving the product quality and manufacturing accuracy. For the past few years, we have invested heavily in several dozen cutting-edge facilities, including the following:
1. Large-sized precision machining center purchased from HUNCO, OKUMA, AMADA, MAZAK and AWEA
2. German WENZEL three-dimensional coordinate measuring machine
3. American HOFMANN dynamic balancing machine
4. British RENISHAW laser machine and ballbar system
5. Laser interferometer, collimator, microscope, ultrasonic detector, infrared analyzer and other advanced test facilities
A wide collection of top-notch facilities and talents enables YUEMING not only to improve production efficiency continuously but also to keep standing out from competition in the marketplace.
World-leading Manufacturing Capacity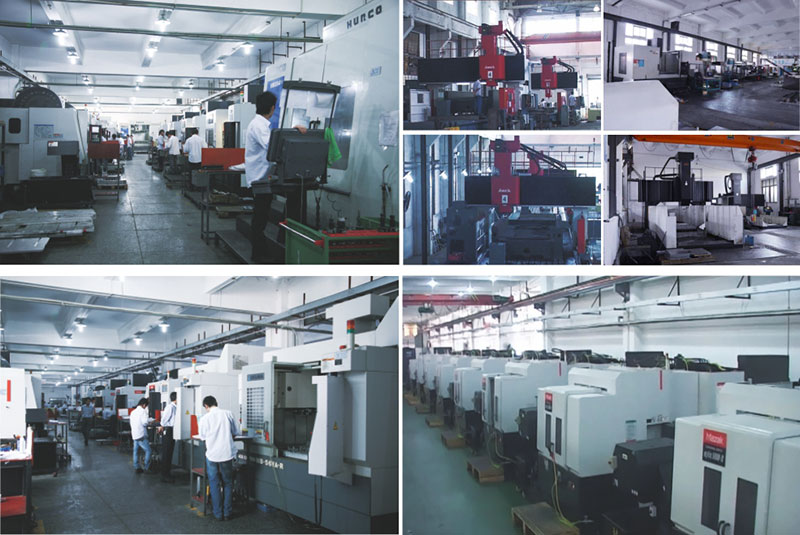 Test Facilities