High Speed Fiber Laser Cutting Machine
CMA1530C-GH-D

Features
1. This laser cutting machine adopts gantry rack double servo drive structure, high inertia and large torque motor, so its maximum acceleration reaches 1.2G, which ensure the laser machine is operating at high speed and high precision.
2. High rigidity reinforced welding lathe bed can eliminate the stress effectively.
3. Imported fiber laser generator makes our high speed fiber laser cutting machine with high light spot quality, stable power output, and precise cutting.
4. The beam of fiber laser cutting machine has passed finite element structure mechanics analysis, which is light weight, high rigidity, and good dynamic performance.
5. Professional laser cutting software with graphical layout and corner smoothing function, this laser cutter can realize high speed punching and marking functions.
6. Ultra low operating costs, the laser power consumption per hour only needs 3~4 degrees, our high speed laser cutting machine cut all kinds of metal thin plate.
7. Cutting material: stainless steel, carbon steel, galvanized steel, brass, aluminum alloy sheet and other metal materials.

Technical Parameters
| | |
| --- | --- |
| Model | CMA1530C-GH-D |
| Cutting range (length×width) | 3000mm ×1500mm |
| Laser type | Fiber laser |
| Laser power | 1000W ( 500W/800W/1000W/1500W/2000W ) |
| Transmission system | Gantry rack drive |
| Loading mode | Automatic double exchange working bench |
| Maximum speed without load | 120m /min |
| Maximum acceleration | 1.2G |
| Positioning accuracy | ±0.03mm/1000mm |
| Repeated positioning accuracy | ±0.2mm/1000mm |
| Drawing format | PLT, DXF, DSP, AI, etc. |
| Working environment | 0-45 ℃ , humidity≤80%, non-condensing |
| Machine power | 11KW |
| Power supply | 380V/50Hz |
| Total weight | 6000Kg |
| Dimensions (with safety protection cover) | 8660mm ×2750mm×1870mm |
Highlight Components and Design
Components and Design
Picture
Performance
Rack double drive + ball screw


The rack is running smoothly under long distance, the ball screw features high precision, so they can achieve the best cutting efficiency.
High performance imported servo motor

High inertia servo system imported from Japan Yaskawa, which has the highest response of the industry, it can shorten the setting time greatly, achieve acceleration and deceleration at high speed, and improve the stability of the laser cutter.
Y type synchronous double drive scheme

Double motor double gear drive system with high strength aluminum alloy beam, which make the maximum acceleration of laser machine up to 0.8G, and reduce gas consumption significantly.
Finite element analysis of beam structure

The beam of fiber laser cutting machine has passed finite element structure mechanics analysis, which is light weight, high rigidity, optimal stability and good dynamic performance. It is very suitable for high speed, and high precision laser cutting.
Fiber laser

Wavelength: 1070 ~ 1090nm
Beam quality: TEM00 (M2< 1.4)
This fiber laser can operate without maintenance.
Service life of pump diode is more than 100,000 hours.
Single mode optical fiber transmission has better light spot mode and cutting efficiency, it is applied for cutting metal.
High dynamic auto focusing system

Double closed loop control system (speed and position) is adopted to control laser cutting capacitor, which features high precision dynamic response, and achieves high speed following.
Precision moving parts

Imported gear and rack drive system achieves high speed and high precision drive.
Fiber Laser
1. Wavelength: 1070~1090nm
2. Beam quality: TEM00 (M2<1.4)
3. Lifespan of the Pump Diode: over 100,000 hours
4. Maintenance-free operation
5. Single mode fiber transmission
6. Optimal beam mode and cutting efficiency
7. Specialized in metal cutting
Auto Focus System with High Dynamic Range
1. Control the capacitive, servo-driven laser cutting head by closing the position and speed loops.
2. Fast dynamic response and high precision
3. Support leapfrog elevation and rapid follow-up.

High Efficiency and Precision Motion Module
The wear-resistant rack and pinion drive system can overcome the oscillation problem caused by high speed, long-distance operation. It can realize high speed and precision transmission.

Professional Low-Thickness Steel Plate Cutting Control Software
1.Adopt self-adaptive smoothing algorithm to optimize the cutting route automatically
2.Automated edge tracking function
3.Adopt Bezier curve algorithm to realize high-efficiency curving and also prevent damage generated from the thermal processing activity

Finite Element Analysis of the Cross Member Structure
1. Finite element analysis and optimization is done on the cross member to achieve the ultimate in dynamic properties: the lowest weight, best structural rigidity, highest running speed and greatly improved dynamic response.
2. Ideally suited for high speed and precision laser cutting
High-Performance Servo Motor
The Japanese Yaskawa high-inertia servo system can offer the best amplifier response, which results in minimal setting time, effective speed control and maximum mechanical stability.

Y-axis Synchronous
Double Drive Solution
1. Twin-motor, twin-gear synchronous drive system with a high-strength aluminum alloy cross member
2. Maximum acceleration: 1.0G
3. Provide ultra high processing efficiency and greatly reduced gas consumption
Cooling Unit
1. Intelligent water cooling system available with dual temperature range
2. Safety alarm functions include over temperature alarm, flow protection, water level protection, etc.
3. This equipment is guaranteed to work normally even in a hot and humid environment.
World-class Facilities
In order to ensure a world class level, we never rest in improving the product quality and manufacturing accuracy. For the past few years, we have invested heavily in several dozen cutting-edge facilities, including the following:
1. Large-sized precision machining center purchased from HUNCO, OKUMA, AMADA, MAZAK and AWEA
2. German WENZEL three-dimensional coordinate measuring machine
3. American HOFMANN dynamic balancing machine
4. British RENISHAW laser machine and ballbar system
5. Laser interferometer, collimator, microscope, ultrasonic detector, infrared analyzer and other advanced test facilities
A wide collection of top-notch facilities and talents enables YUEMING not only to improve production efficiency continuously but also to keep standing out from competition in the marketplace.
World-leading Manufacturing Capacity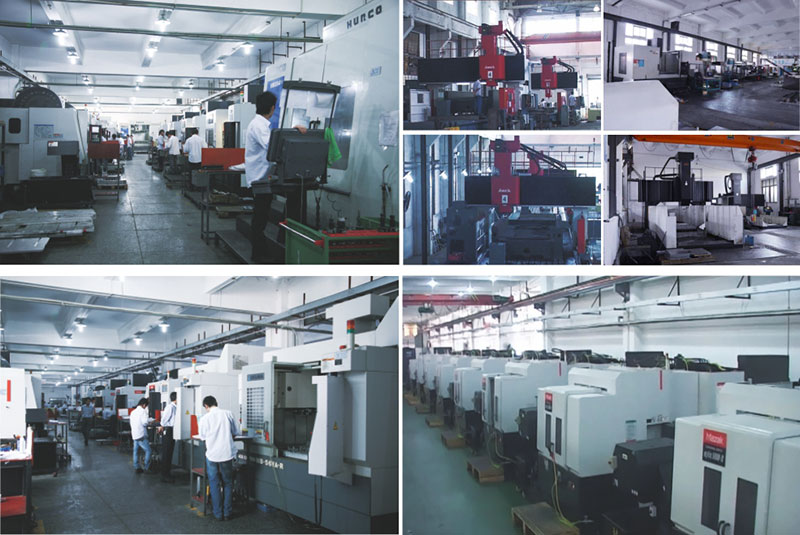 Test Facilities